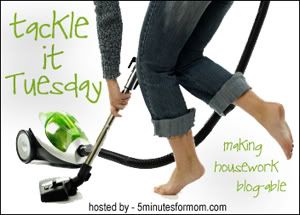 It's another tackle! This one I have been putting off for awhile. I'm not 100 % happy yet, but it is a huge progress.
A little back story, I started college in fall of 2009. I had plans to keep my desk area perfectly organized and have everything where it needed to be and cute and just perfect. Then life happened.
I really don't know how I could have expected any different than what happened to have happened. Let me remind you, I am a married mom of six. We have two in band, one of which also plays softball, and then just normal family stuff. Plus, B3 was still in physical therapy then. My schedule got crazy and organizing and keeping up went out the window.
So... here we go!
I forgot to take before pictures. So let me describe it. The desk and bookcase that are there? Ya... you couldn't see them, and the chair was piled up too. Over half of what we tackled did not belong at the desk, it was old mail (was wondering what happened to that bill... YIKES!), kids papers from school, cat toys, money! (found $2), kids books and pictures. Plus the mail box thingy that I haven't decided exactly what to do with yet. LOL
I spent probably three hours going through papers and getting rid of stuff no longer needed (a full bag of trash was thrown away). When Jeff got home he helped me finish up what we did. It really looks a million times better than it did. I just need to finish up some things. Like that striped box there? That's my college stuff that needs to be organized.
I need to straighten up the envelope/paper/labels/folders pile a bit better. At least I know where all of it is though, right? And I am sure once I get my textbooks for the fall that the bookcase will be a bit fuller. That cord is for the printer because 90% of the time my laptop is traveling... I am just stuck at the desk right now since WiFi went on vacation. (I really miss it, but it is only temporary)
Ahh... the actual desk. This desk is older than me, when I got it I replaced the top and painted it. We got the chair at Office Depot on clearance. (And do forgive my iced mocha sitting there, sometimes you gotta have the caffeine). That bottom shelf there is all but one of my textbooks that need to be sold or traded. Still debating if I should just trade them at StudyMaster or put them on eBay.
My challenge for next week is to find/print/crop pictures for the frames above the desk. I want one of each of the kiddos, figure girls on one side and boys on the other. The big frame above the dry erase board either a family picture or me and Jeff.
Have a great day!